DHT provides expert golf course construction services at reasonable prices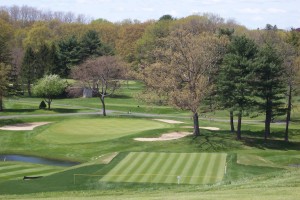 We employ local residents who return their earnings into local economies.
After our initial review, we provide written proposals that identify work schedules, processes and pricing.
We've also successfully completed many golf course drainage projects with prominent drainage consultants Kelly/Ami, Montreal, Canada.
DHT Golf employs experienced golf course shapers, project managers and support staff. Our deep golf construction experience will guide your project toward prompt completion. And when unforeseen complications arise, we'll work with you to insure a satisfactory conclusion to your project.
Recent projects include:
Installation of over 3000 linear feet of deep drainage pipe, slit drainage, tee renovations, and asphalt path

Bunker Salem Mass

Complete tee renovation and laser grading for a private golf course in Massachusetts.
Simultaneous 54 bunker renovation and new golf range construction with practice greens at Cranberry Valley Golf Course, Harwich,Mass.
Complete bunker renovation at Wanumetonomy Golf Course, Rhode island
We've also installed 14 complete golf irrigation systems using PVC or HDPE pipe.
Continuing working relationships
Some New England golf courses maintain a continuing relationship with DHT Golf Services. We work with these courses, providing site-specific experience and reasonable pricing on golf construction work. And when an emergency arises, we mobilize crews and equipment as needed.
Call today (508-746-3222) for on-site discussion with a DHT Golf representative.